Samyang HOT Chicken
Flavor Ramen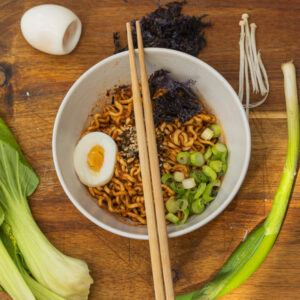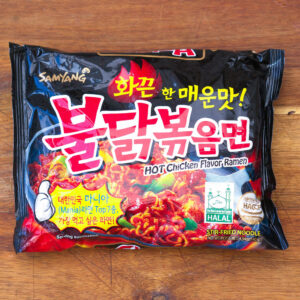 HOT Chicken Flavor Ramen / 불닭볶음면 / Buldak Bokkueummyun
SHU 4,404
Here it is! The very first challenge we did as the classic F&J duo. It was 1 AM when we decided to pull out the camera, crack those packets open and start our channel off with a bang! Being there most popular product, it was quite hard to obtain a packet, as they were - and still are - in such high demand. As we delved into the noodle packet, the following contents contained:
As expected, one of us handled it WAY better than the other, but that still didn't stop me from trying to finish it. I don't think either of us were expecting the noodles to be so delicious, carrying that Korean flavour; that underlying sweetness that accompanied the heat, as well as the Umami from the sesame seeds and seaweed. This was the flavour we always came back to when we did our other Samyang challenges, as this packet noodle laid the groundwork for all the deviations that we tried from then on. Samyang, We salute you!
Want to try these yourself?
Here are some of the best-sellers to buy these products (featured below):
Even though my mouth was on fire, and I was extremely tired, I still found the noodles themselves to be extremely enjoyable, and can't recall disliking any of the few bites I took before succumbing to the fiery depths of the Samyang spicy sauce. A flavour I'd always come back to, and a comfort food in hindsight, now I can handle my spice a bit better! Although I may bring a bit more milk this time round...
I originally got this multi-pack in December 2016 as a Christmas present (which was odd to begin with) however as our very first challenge, this will always be a sentimental one! Honestly I was a little nervous because at the time, these were the hottest instant noodles in the WORLD. Safe to say the noodles were hot but manageable at the same time thanks to its sweet smokey flavour which made this pack enjoyable. Maximum outcome was slightly hot lips as it's quite saucy and watery eyes but on the whole a nice challenge to get into the life of spice!