Samyang NUCLEAR Chicken
Flavor Ramen (Mini)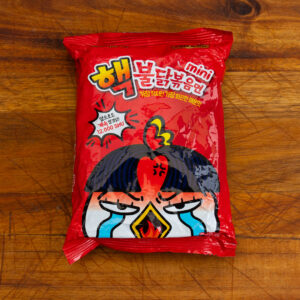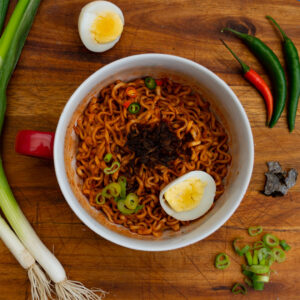 Mini Nuclear Fire Chicken flavour Ramen / MINI - 불닭볶음면 / Buldak Bokkeummyun
SHU 12,000
Samyang's devout followers, clearly not satisfied with the x10 Buldak Bokkeummyun, demanded they bring out a hotter variant of their original chicken flavour Ramen. This, ladies and gentlemen, is it; the hottest Instant Ramen released by Samyang to date! 'We Will Maintain the Hotness' is what they right on the back of the packet, and they sure as hell achieve that. For the 7th Anniversary of their Buldak Bokkeummyun range, they clearly wanted big things to come in small packages, as these miniature ramen packets deliver more of a blow than any other Samyang product we'd had before, and definitely rank highly on our spice scale. It has that same distinct sweetness that all the Samyang Buldak Bokkeumyun variants have, with a spicier twist. As we delved into the noodle packet, the following contents contained: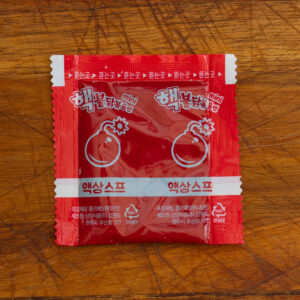 A hard challenge, but still an enjoyable meal, as expected by Samyang! Like the idiot I am however, I gobbled down the initial bites too quickly, and the spice set in. Gonna take my time on the next attempt.
Want to try these yourself?
Here are some of the best-sellers to buy these products (featured below):
Although I didn't finish these (big surprise...) I still did enjoy them very much, though it may have been hard to tell through my constant coughs and gasps for air. An expected sweetness and meaty flavour, it delivered in all the ways I wanted, and lived up to my expectations. A great challenge I'd definitely eat again.
I only had 1 packet of these as at the time, these were also a pretty tricky packet to get across the UK. Also known as Samyang Mini, I finished these noodles in no time – but considering the noodle block was smaller than average, don't underestimate these by thinking one big mouthful will do the job. – Ask my bro. The heat level is quite intense and if down the wrong hole, it's GAME OVER! But I did enjoy watching Freddie eat these if I'm honest.