Samyang HOT NUCLEAR Chicken
Flavour Ramen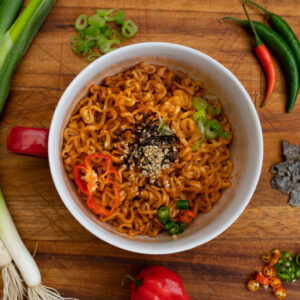 HOT Nuclear Chicken flavour Ramen /불닭볶음면 / Hek Buldak Bokkeummyun
SHU 10,000
Me and Josh were really looking forward to trying these. We'd done Samyang Original Chicken, we'd done the x2, and now it was time for the 10,000 SHU variant, the second hottest they'd released to date. When they arrived, we'd decided to move into the conservatory, and get started. They tasted exactly like we'd anticipated, but were VERY hot, especially for me. Josh didn't struggle all that much, but after a few bites, I just couldn't take it. Especially since I'd swallowed one bite awkwardly, leading to me coughing. As we delved into the noodle packet, the following contents contained: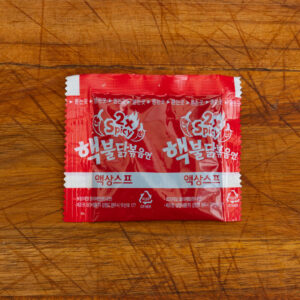 We may have eaten out of the same massive wok, but we definitely weren't on an equal playing field. Overall, another failure for me, and another success for Samyang.
Want to try these yourself?
Here are some of the best-sellers to buy these products (featured below):
The sauce on these noodles were redder than anything I'd ever seen, and had heat to match. It was very tasty, but far too hot for my tastes, but - to be honest - that's not saying much. I'd try these again, now that I've gone through hell and back.
Samyang have done it again. Another level up. But this time they've reached the all time high of 10,000 SHU – I tried to film these with a Go Pro strapped to my head and I tried eating 4 packets of these from a wok which caused all sorts of issues. Technically I finished the challenge but couldn't eat all 4 packs as I felt It was clogging up my arteries! As for flavour I think Samyang have always stuck to the same flavour but just increased the intensity of the heat sachet, so yeah…