Daebak Mamee
Ghost Pepper Noodles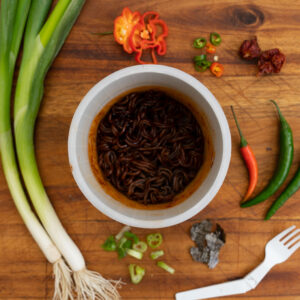 Ghost Pepper Noodle / 대박마미 / Daebak Mamee
SHU 1 Million???
'The Malaysian Noodle with Korean Quality', the slogan taken by the Daebak Noodle company based in Malaysia, literally meaning 'Awesome' or 'Fun'. This was the first time we'd ever bought any of their products, but it definitely won't be the last, as we both thoroughly enjoyed this challenge! As we delved into the noodle packet, the following contents contained: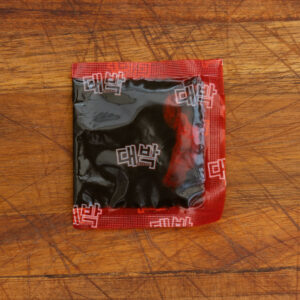 We were both fairly convinced that the number on the front of the Noodle Cup was an exaggeration, and after eating it, we were definitely right. We'd eaten noodles hotter than this that were advertised simply as 'Hot'. After draining away the water (which we don't usually do during the cooking process) they were ready. That however, didn't stop these noodles from being extremely delicious! They were black noodles, unlike any other we'd eaten before, and came in a cup with their own little eating fork. This was a change of pace for us, but we definitely had a lot of fun eating - and finishing - this challenge.
Want to try these yourself?
Here are some of the best-sellers to buy these products (featured below):
A very delicious noodle indeed. Although they didn't look like any other cup-ramen or noodle I'd eaten before, it definitely went down as one of my favourite challenges on the channel; hot enough that it was difficult to finish, but not so hot that I couldn't enjoy the subtle Asian flavours contained within. A great noodle! I'll definitively be eating Daebak again.
Eating noodles from our own heritage (we're 1/4 Malaysian) was an honour and watching some of the other videos, these were acclaimed to be the next hottest thing. To be honest they weren't. Don't get me wrong, they're hot but there's no constant build up and I was proud to see Freddie plough through and successfully finish these noodles.