Samyang Buldak Bibimmyeon
Flavor Ramen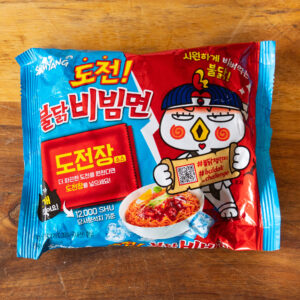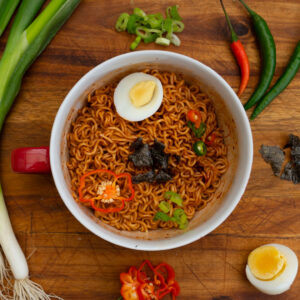 Samyang Buldak Bibimmyeon Nuclear Fire (cold) Falvour Ramen - Extra Sauce Challenge!
SHU 12,000
You're probably wondering with all the challenges that we do with Samyang, why would this particular pack be classed as a 'challenge'? Well they've included an extra heat sachet to add to the challenge and therefore, add to the spice! However this is 'bibimmyeon' meaning mixed noodles which is traditionally served cold - almost like a noodle salad! The sachets are quite interesting, as you can see from below, you are given one sachet that has a looser consistency but greater volume, and one sachet that's smaller but much thicker. - Which one do you think is the hottest?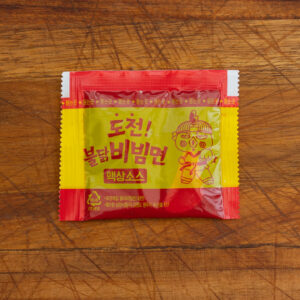 This challenge was definitely a spicy one, but eating the noodles cold, made the eating more bearable and even Freddie done well with these... So we added a 5 minute afterburn to give ourselves an extra test, however somebody's glasses were broken in the process!
Want to try these yourself?
Here are some of the best-sellers to buy these products (featured below):
These were definitely a lot sweeter than I first expected but as you can see in the video, I managed to complete it! But then there was the 5 minute after burn and I was just getting flash backs to all the suffering in previous videos and I was actually speechless to get through the 5 minutes.
In terms of flavour, I found both sachets to be flavoursome, especially the small packet as the sauce was more like a chilli jam which was quite nice! Even though the SHU was at 12,000, it wasn't too bad considering the noodles were served cold which automatically makes it a lot easier. The 5 minute afterburn made it slightly harder but I would say these noodles are definitely manageable and the extra challenge sachet brought a new fun element to the noodles!