Samyang HOT Curry
Flavor Ramen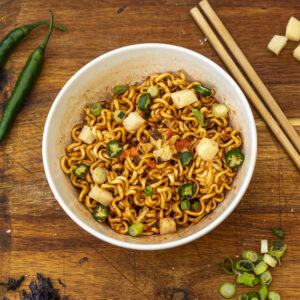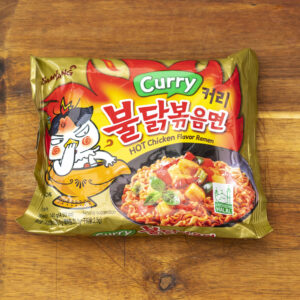 HOT Curry flavour Ramen / 카레 - 불닭볶음면 / Buldak Bokkeummyun
SHU 3,810
Following the trend of many other Noodle brands, our old friends at Samyang decided to bring out a curry flavour, and since both our favourite noodle flavours were curry, it wasn't an opportunity we could pass up. These were particularly cool, as the Noodles had their own individual vegetable packet, with some dried carrot and vegetable protein. This was a nice added bite to the Buldak Bokkeummyun, and - along with the curry flavour - the smell and taste of the noodles was very nice.As we delved into the noodle packet, the following contents contained:
What was less nice however, was how we ate it. Without hands. Our faces were on fire, and our mum had made us individual bibs with the word 'Curry' written on them. So thank you Samyang, for the delicious Curry flavoured Buldak Bokkeummyun ...and thanks mum for the bibs.
Want to try these yourself?
Here are some of the best-sellers to buy these products (featured below):
As much as I didn't finish these noodles (Big surprise) I did very much enjoy the flavour, only adding to the delicious sweetness and texture of the classic Samyang. I'd definitely try these again, minus the bib and no hands.
This challenge was probably the most dangerous, not because they were extremely spicy, but because I came with the idea to not eat these noodles with ANY CUTLERY. So in a nutshell, myself and Freddie ate these by plunging our faces into hot steaming noodles. My nose was burnt, my chin was burnt, event my cheeks - It was like touching a red hot oven (maybe a little too extreme) but if there was a challenge where we'd come out with any scars/wounds it'd be this one. On a brighter note, the flavour delivered! Really nice curry flavour and smelt nice when cooking. By this time I was getting used to Samyang's spice levels so it was time to up their game.