Maggi Hot Heads
Green Chilli Noodles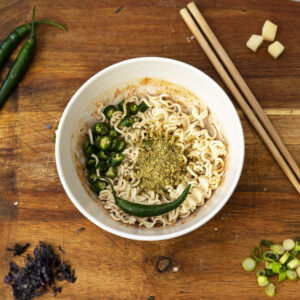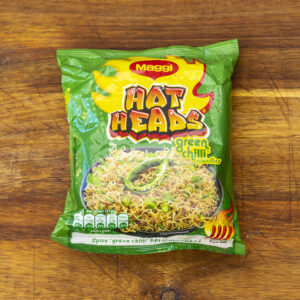 Maggi 'Hot Heads' Green Chilli Noodles / Instant Ramen Noodle
SHU ????
I'm sure we're all familiar with Maggi, the brand that brought a million hungry Uni students a meal before their next lecture. This time, however, they're out for blood. Both of us are big fans of Maggi, and were really looking forward to these noodles, especially since they were a part of a greater series called 'Hot Heads'. However, And, although there were other flavours like 'Piri Piri' and 'Chilli Chicken' - this was rated as the hottest of the series, so it had to be the one we took on! They came in a small green package, and we were both excited to get stuck in. As we delved into the noodle packet, the following contents contained:
Unfortunately, the Green Chilli flavour came on very strong, and could even be described as being bitter. Definitely not our favourite, and we'll be sticking to the curry flavour (Five for a pound by the way).
Want to try these yourself?
Here are some of the best-sellers to buy these products (featured below):
I didn't really enjoy these noodles. I certainly got through them, but the taste of green chilli was so strong and bitter that it was gag inducing. I will most definitely be staying with the classic curry flavour from the local store.
These noodles took ages to get! The only place that I could find was on eBay and i'm pretty sure it was a good few weeks until these packs were delivered to our doorstep. Maggi is my favourite brand of noodles and I definitely got the flavour of green chilli from the hot heads series. As for heat, I wouldn't worry about these, in fact i'd put a little extra chilli sauce to give these a real kick!