Samyang HOT Black Bean
Flavour Ramen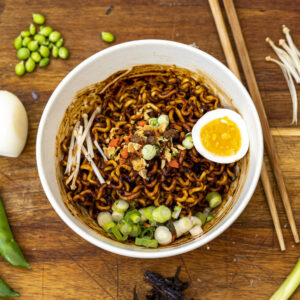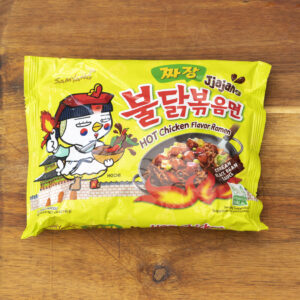 HOT Black Bean Flavoured Ramen / 자장 - 불닭볶음면 / Jjajang Buldak Bokkeummyun
SHU 1,920
For once, Samyang had decided that, instead of making their next variety of Buldak Bokkeummyun, they'd try a different flavour, and cool it off a little. So here you have it, the Black-Bean (Jjajang) flavour! It came in a cool green packet, but - apart from the dark sauce - shared most of its primary aspects and flavours with the other Samyang products. However, we found it to be a lot more flavourful than many of the other Ramen types we had tried, doing something different and not keeping that Samyang sweetness we'd both gotten so used to expecting. As we delved into the noodle packet, the following contents contained: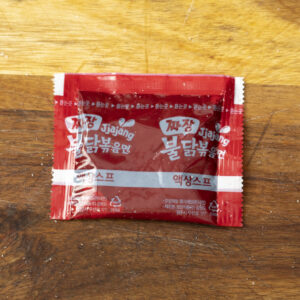 Since this challenge was a little less hot than the other Samyang Buldak Bokkeummyun types, we decided to add a five minute after burn once we'd finished. Now that stung. Not only did I have to finish it, but I had to sit and suffer. Clearly Josh thought the challenge just wasn't hard enough. Now that's what I'm talkin' about!
Want to try these yourself?
Here are some of the best-sellers to buy these products (featured below):
Easily one of my top favourite Instant Korean Ramens, not only of the spicy range but of all time. It had a great balance of flavour and texture, whilst still keeping the trademark spice that Samyang is now so famous for. And, although the black-bean flavour didn't come through massively, I still enjoyed the sweetness and texture of the noodles. Definitely something I'd come back to, and definitely something I'd eat on my own!
These noodles were okay. I usually order black bean beef when I order Chinese and I was getting similar flavours with these noodles. This would be another one that could use some chilli sauce for an extra kick. One thing i'd say is don't get any of this on your clothes, or even the table as it causes quite a stain.